Teams:
@The Fresh Prince
- grizzlies
@Ron Mexico
nuggets
@Thee Idiotic Minivan K
pacers
@FIVAS
spurs
@Saint Cy of JFC
raptors
@Domino
lakers
@YoungJefe
Warriors
@Elizah Huge
hornets
@Coach Ellis
pelicans
@David Hume
rockets
@Handlogten's Heros
pistons
@Hekate
Thunder
@Keefe
Nets
@toddychurch
Bucks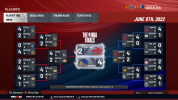 Winner: YoungJefe
MVP AND FINALS MVP:
Nikola Jokic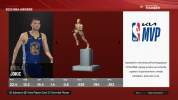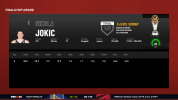 Been really busy guys, I'll write a summary later. I got swept in the first round, lol.
@Ron Mexico
kicked my no defense having ***! (Giannis did win DPOY)I had a lot more fun doing the all time draft. As you can see though, whoever had the better rated team wasn't the better team in the sim. Whoever had the more fundamentally sound team dominated, and YoungJefe was unstoppable all season, only losing 13 games.
​
Last edited: