The NY Jets have a new QB (Zach Wilson) and he is a super rich kid from Utah. Family is involved in the airline industry. I wanted to see just how rich his family is so I found a picture of his family home in Utah: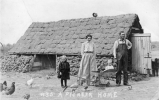 Wow. I'm impressed. That home is pretty high end in Utah. But the point is this: They gave a "stat" during the game that was hilarious. The announcer said that Zach Wilson had never been to an NFL game in his life. That means the first NFL game he ever attended was one in which he is the starting quarterback! Wild.
Led me to think...Utah does not have a professional football team so I wonder how many of you Utes here have ever attended a pro football game?