The policy platform of the America First Caucus:


And the platform's opening paragraphs on immigration:

Immigration
The America First Caucus recognizes that our country is more than a mass of consumers or a series of abstract ideas. America is a nation with a border, and a culture, strengthened by a common respect for uniquely Anglo-Saxon political traditions. History has shown that societal trust and political unity are threatened when foreign citizens are imported en-masse into a country, particularly without institutional support for assimilation and an expansive welfare state to bail them out should they fail to contribute positively to the country. While certain economic and financial interest groups benefit immensely from mass immigration, legal as well as illegal, and the aggregate output of the country increases, the reality of large segments of our society as well as the long-term existential future of America as a unique country with a unique culture and a unique identity being put at unnecessary risk is something our leaders can afford to ignore no longer.

As such, America's legal immigration system should be curtailed to those that can contribute not only economically, but have demonstrated respect for this nation's culture and rule of law. America's borders must be defended, and illegal immigration must be stopped without exception.
Wow! White supremacy doesn't get any clearer than that! Essentially what the "America First" caucus is saying is that:
1. Immigration needs to be shut down.
2. It needs to be shut down to preserve white (Anglo Saxon) heritage/culture from inferior elements that cannot or will not assimilate or contribute positively to the country.
Compare what Tucker spews nightly, it's pure white supremacy. Also, using terms like, "Anglo Saxon" is yet another bullhorn for white supremacy.
Outstanding threads by some of the best historians in the nation:
One of the links isn't working. Here's the write up "preserving" Anglo Saxon Heritage from 1963's The Cross and the Flag: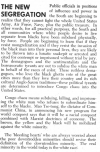 How is this anything different than what Tucker And republicans are saying right now?