https://www.cnn.com/2019/07/08/us/jeffrey-epstein-monday-court-appearance/index.html
Basically, this billionaire was running a sex ring in Florida. In the early 2000s, one (underage) girl reported to the Florida police that she had been raped by Epstein. The police began investigating and found more victims. Epstein then hired high priced lawyers, namely, Alan Dershowitz, to his defense.
Prosecutors then got the feds involved and they found even more victims. They even found that underrage victims were then paid to find more victims for Epstein to abuse and employ. It appears that some pretty important people were using Epstein's... Aw, how do we say it? Services?
Dershowitch, Bill Clinton, and Donald Trump are all names that come up.
However, before the federal prosecutors could level the boom, prosecutors negotiated a deal (without notifying victims) with the defense which called for Epstein to serve:
13 months in jail (which he didn't even serve. He was released early)
Allowed him to leave the jail for 12 hours per day 6 days per week (what the hell?)
Register as a sex offender (thank god he had to pay some price for raping girls...)
This deal caused a pretty big stir back then. But was shortly thereafter forgotten...
Why is it coming up now? Well, it appears as if the prosecutor for the SDNY has a victim in his jurisdiction. When they arrested Epstein a few days ago they found CDs with nudes of underrage girls on them. A judge also recently ruled that the Florida case was handled improperly. So this leaves open the possibility that victims from the Florida case might be able to have their day in court and serve this monster some justice.
Why does this matter?
Epstein is a monster. Finally justice will be served.
The prosecutor who gave Epstein his sweetheart deal in Florida is currently Trump's Secretary of Labor. Why did he give Epstein such a great deal? Why then did Trump award him to join his cabinet?
Epstein's sex ring could take down a lot of very powerful people in America/UK. Which, imo, good. Get rid of all these scumbags, no matter who they are.
Examples:
Prince Andrew
(Andrew on the left. The girl in the middle was 15. The woman on the far right was Epstein's girlfriend, who actively recruited underage girls for his business):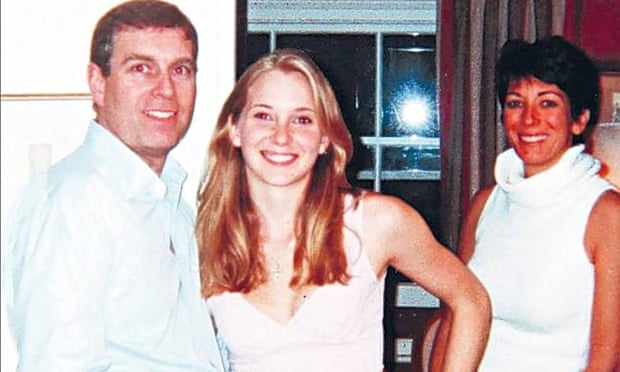 https://www.cnn.com/2019/04/17/us/dershowitz-defamation-lawsuit-epstein/index.html
Dershowitz:
According to the lawsuit, which was filed in April in the Southern District of New York, Dershowitz -- who used to represent Epstein -- knowingly made "false and malicious defamatory statements" against Virginia Giuffre, formerly known as Virginia Roberts, who claims to have been a victim of sex trafficking and abuse by Epstein when she was underage.

Giuffre alleges in her suit that Dershowitz, 80, was a participant in Epstein's sex trafficking operation, and that she had sex with Dershowitz as part of that operation. Giuffre has made similar allegations against Dershowitz in court filings in the past.
https://www.apnews.com/3d0490c6774048dc8a5f4fe80d0cf71f
Clinton:
Epstein was also an associate of Clinton's, repeatedly lending the former president his jet to travel overseas. Flight logs obtained by Fox News showed the former president took at least 26 trips aboard Epstein's Boeing 727, nicknamed the "Lolita Express," from 2001 to 2003.
26 times? Hard not to imagine that Bill didn't "participate" in Epstein's services. 26 ****ing times? Wow
This quote is pretty nasty:
Trump:
"I've known Jeff for 15 years. Terrific guy. He's a lot of fun to be with. It is even said that he likes beautiful women as much as I do, and many of them are on the younger side."
Trump 2:
One of Epstein's Victims named Trump as her rapist:
What do you guys think?
Last edited: