Well-Known Member
Contributor
2020-21 Award Winner
I thought some of these guys were supposed to be better this year? Here is our basic defensive ratings for each person on the Jazz. Highlighted a few interesting ones. Note that among the players who actually get playing time, Mitchell and O'Neale have the worst DRTG on the team. And Butler simply does not get enough PT.

Here is the RAPTOR metric, which is pretty solid in general. Again here Donovan is easily the worst defensive player on the team for the regular players, and Butler doesn't get enough PT, from a defensive standpoint.

Ok here is one more. The LEBRON, sorted for the defensive impact. This shows we only have 4 players who have a positive impact on the game from a defensive standpoint. Again, Mitchell near the bottom. Clarkson hit hard on this one.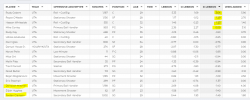 So, can we get any better here? We are middle of the pack realistically on our D in the league, and as such we have some glaring holes that can be exploited by the teams with the personnel to do so. Also our "best" player, Mitchell, is a solid liability on defense, not just neutral, but flat out bad.
I think it starts with coaching, and with us, the defensive coaching is a big problem in this regard. Quin does not have great defensive schemes and he doesn't get his players playing D within the schemes he does have. Funnel to Rudy is a bad plan for the playoffs, but we have seen this is the only D we know how to play. With Rudy out we have reverted to basic defensive sets that are run in college, nothing adapted to the challenge at hand nor any focus from our key personnel.
Individual effort is a problem. This is Mitchell to a T, he either doesn't understand how to play defense or he just doesn't. To be honest I am not sure which it is. Last night he looked more than lost, he looked complete disinterested in playing any semblance of D other than gambling in the passing lanes. I get that last night was a challenge, but he has looked this way most of the season. He gets lost easily, gets hung up on screens, doesn't rotate well, doesn't stay in front of his man. In fact as often as not he lets his guy by then tries to slip out for the offensive end anticipating Gobert to clean up the ****.
So is there a fix? Is our defense sufficient to carry us further in the playoffs this year? I don't think so. I know this will turn into another trade thread, but I think we need some light on the real defensive impact of our individual players. They need to be held accountable. Quin needs to step up. It is bigger than just adding another guy that could defend better, imho.