Here in New York we've had another incident. The third greatest player in NBA history, Patrick Ewing, was at The Garden last night to coach his Georgetown Hoyas. A security guard did not know who he was and asked Ewing to produce papers. Ewing was upset, things got out of hand and Ewing was taken into custody, tried over night, and executed this morning. His jersey was also taken down from the rafters at MSG. We loved him, but you have to produce papers when asked by security.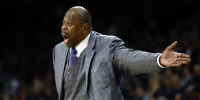 Clearly the security guard at The Garden last night did not recognize Ewing. My question for Jazz fans is two-fold:
1. Do you think security at your arena would recognize Karl Malone?
2. Who is more recognizable right now to Jazz fans: Malone or Gobert?